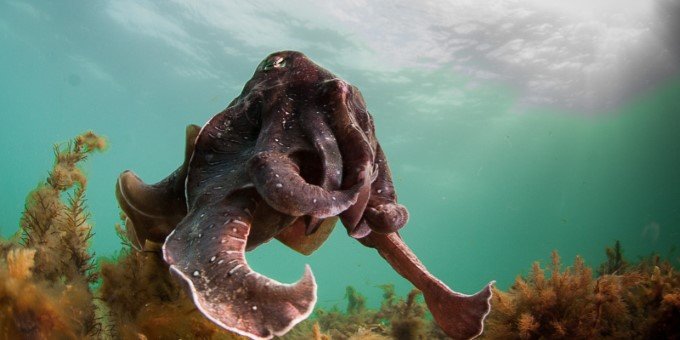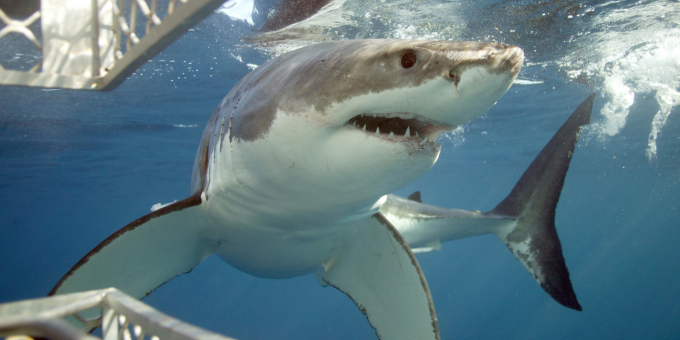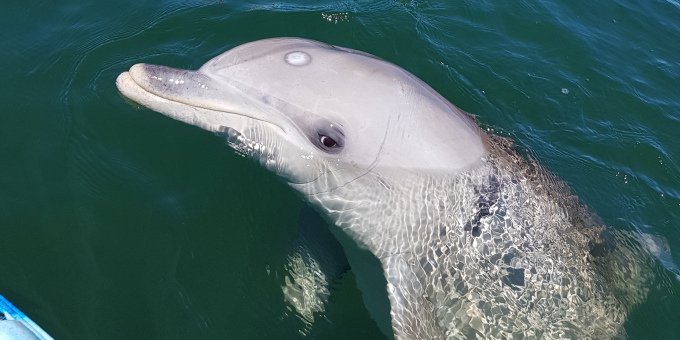 Swim 'with' Safari – marine adventure
---
Let us take you on a once in a lifetime adventure to explore South Australia's marine mecca, the Eyre Peninsula. This 4 day 3 night adrenaline fueled experience is sure to get your heart racing! Tick off 3 incredible bucket list items as you snorkel with the colourful Giant Cuttlefish, Cage Dive with awe-inspiring Great White Sharks and Kayak with friendly Bottlenose dolphins!
Learn about the fascinating marine animals you will meet with 2 expert presentations

Ignite your curiosity as you snorkel with a mass congregation of Giant Cuttlefish

Kayak along the Whyalla foreshore and interact with the world's friendliest dolphins

Cruise to the Neptune Islands and jump in a cage to view the magnificent Great White Shark

Sightseeing enroute to explore some of South Australia's iconic regions

Comfortable accommodation and locally sourced meals
Exclusive 2020 Tour
4 Days 3 Nights
Watch this space
Dates available soon
Small Group Tour
Maximum 12
Price
from AUD $2549 per person
Tour Inclusions

Experienced pureSA guide
National park fees
Picnic lunch at Alligator Gorge
Kayak hire
Snorkel with Giant Cuttlefish
Cage Dive with Great White sharks
Exclusive marine presentations
Wetsuit, snorkel and dive gear hire
1 night accommodation in Whyalla
2 nights accommodation in Port Lincoln
Meals - 4 breakfast, 3 lunches, 3 dinners
Road transport to Whyalla and Port Lincoln
Return from Port Lincoln to Adelaide by Air
Itinerary Day 1

Departing from Adelaide, witness the change of scenery as you leave the city behind and travel through a landscape of fields and quaint country towns. Stopping briefly at Jitter Bean Oasis, a quirky café located in the township of Lochiel where having a fresh cup of coffee and piece of cake (own expense) may be too hard to resist.
Right in front of the café, admire the Bumbunga pink salt lake before we continue on our way to Alligator Gorge, one of the most popular and scenic places in Mount Remarkable National Park. Here, you'll enjoy a gourmet packed lunch while admiring the surrounding bushland. Then, it's back on the bus to travel to the home of the Giant Cuttlefish, Whyalla.
On arrival, get ready for your first marine experience! Jump in a kayak and paddle through the marina and along the stunning shoreline. Keep your eyes peeled for the friendly local dolphins who are renowned for interacting with people. After dropping your bags and freshening up at the Quest hotel, enjoy a short drive to the Whyalla foreshore and take a stroll along the beach to watch the sunset. Then sit down to indulge in a set 3-course dinner. Later, learn about the changing colours, patterns and shapes in a fun & informative presentation from our Giant Cuttlefish expert.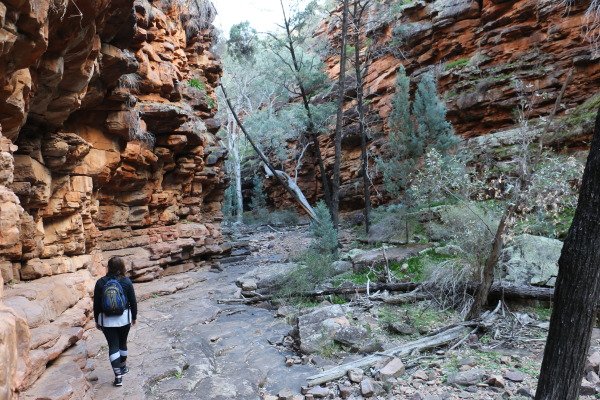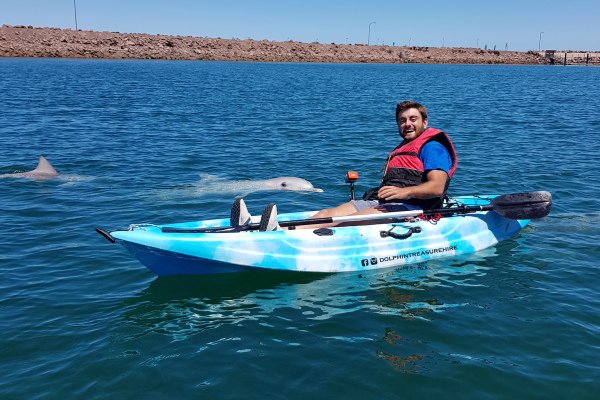 Itinerary Day 2

After waking to enjoy breakfast, you'll soon be on the bus to start your morning Giant Cuttlefish adventures! First up is a stop at the local dive shop to get fitted with wetsuits and snorkelling gear. On arrival at Stony Point, one of the best spots in Whyalla to see the Giant Cuttlefish, you'll receive a full experience and safety briefing before entering the water with your marine expert and snorkelling guides. Swimming just a few metres from shore, you'll start to encounter these unique and wonderful creatures in their natural environment. Observe their graceful gliding among the rocks as you witness their changing shapes and colours. Back on shore, you'll change into warm clothes and enjoy a hot drink while reflecting on your amazing Giant Cuttlefish experience.
Share your Giant Cuttlefish stories with one another as we head further south to our next destination of Port Lincoln, home of the Great White Shark! Along the way, break at Arno Bay for a fish and chips lunch and then stretch your legs along the coastal boardwalk. Upon arrival in Port Lincoln enjoy a short stop at Winter Hill Lookout to take in the best view of the city and bay. Set down your bags at the Port Lincoln Hotel and enjoy some free time to relax or even take a walk along the beautiful foreshore. Tonight, over a delicious 2 course dinner, we hear from our Great White Shark expert. Learn about their biology and behaviour and feel the excitement start to build as you prepare for your Cage Diving adventure!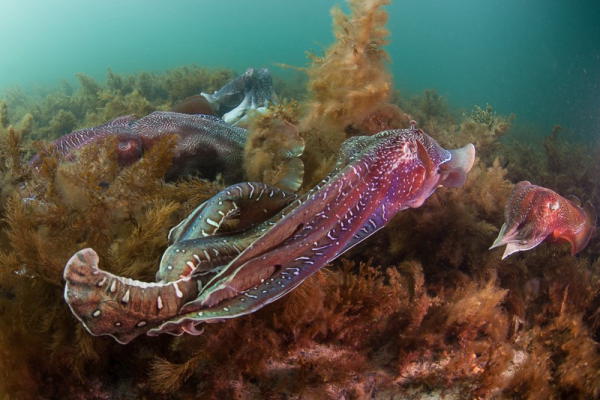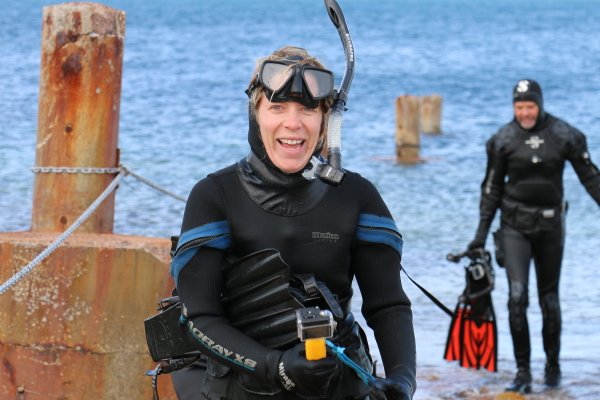 Itinerary Day 3

Awake knowing that today you are off to see the legendary Great White Shark in its natural habitat. Transfer from your hotel to the Adventure Bay Charters departure lounge for pre-departure checks and a light breakfast before boarding the Shark Warrior. Once on board, it takes approximately 2.5 hours of cruising before reaching the Neptune Islands, a Great White Shark hotspot. On the way, see spectacular scenery as you cruise through the Thorny Passage and expect sightings of inquisitive local dolphins and sea birds.
When the Sharks arrive, you can choose to take a splash and get into the cage as a diver or stay dry in the world's first Aqua Sub – a revolutionary way to view Great White Sharks in their most pure form. This submersible glass viewing area features 360-degree underwater views and allows you to stay completely dry! This is the only chum, blood and bait free Great White Shark Cage Diving Experience in Australia. Instead, Adventure Bay Charters use sound vibrations to attract the sharks to the boat. The benefits of using sound vibration is that it is omnidirectional (that is, it travels in all directions underwater), it's instantaneous and completely eco-friendly – and funnily enough, the great white shark's favourite choice of music is the rock tunes from AC/DC. Lately they have also taken a liking to The Hilltop Hoods!
All dives are surface dives using "hookah" (surface air supply) meaning no cumbersome air tanks! You will only be 2-4 feet below the surface at all times and free to surface at any time. There is no Scuba Diving experience required. The crew will provide you with training on the day! During the day see the action from the vessel – take pictures, enjoy lunch and relax on the water. Once everyone has had a chance to get into the cage, enjoy your cruise back to the Port Lincoln Marina. Share your stories of bravery and adventure with your fellow shark divers over an Aussie pub style dinner at the Marina hotel. What an exciting day!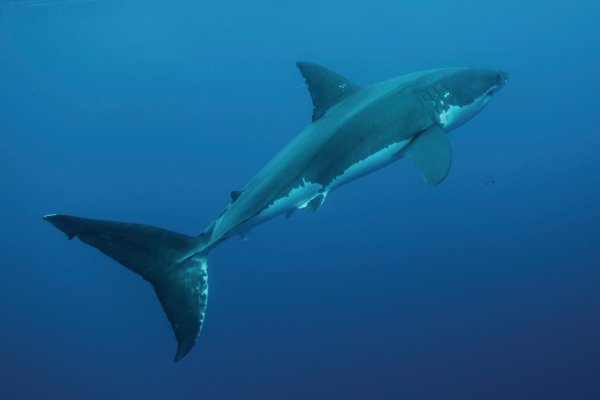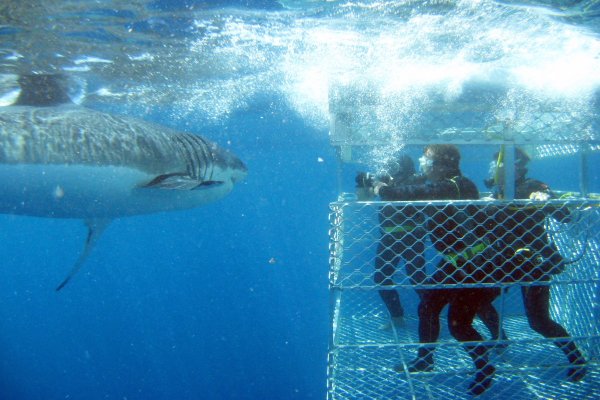 Itinerary Day 4

Sadly, it's now time to say goodbye to your new marine loving buddies! This morning enjoy a continental breakfast before being transferred to Port Lincoln Airport for your flight back to Adelaide.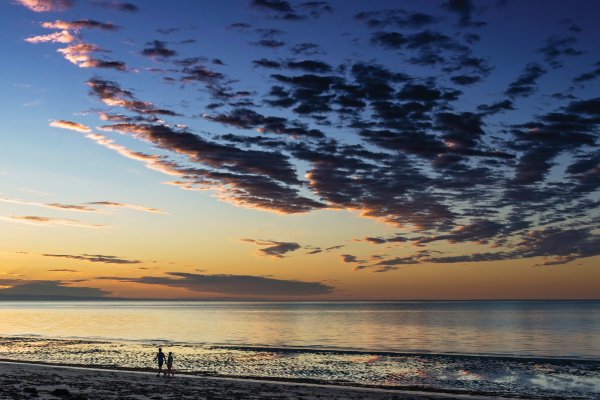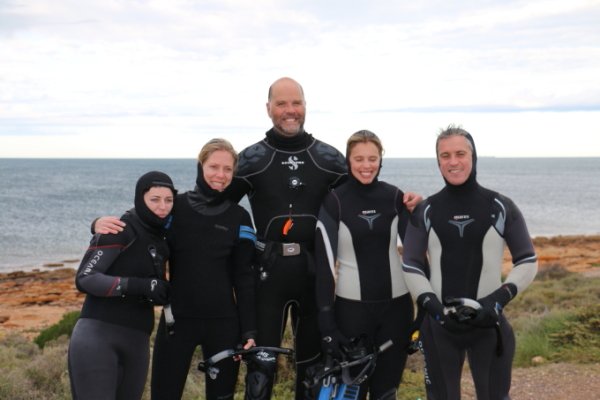 Travel Information
---
Departure | 4th July 7.30am | Central Adelaide
The main departure point is at the pureSA office at The Joinery, 111 Franklin Street, Adelaide. Please arrive 15 minutes early to allow time for check in and loading of luggage. Pickup on request from selected Adelaide city hotels may also be available and will be confirmed by email following receipt of your booking.
Return | 7th July 11.00am | Adelaide Airport
Please note that your return is by flight from Port Lincoln to Adelaide Airport. You will be transferred from the hotel to Port Lincoln Airport for the 10am flight. On arrival at Adelaide Airport you are responsible for your own transfer to your hotel.

Important Tour Notes
---
Wetsuit and all snorkel/dive equipment for the Giant Cuttlefish and cage diving activity are provided

You will need to bring your own warm towel and dry clothes to change into after the cuttlefish swim and cage dive

This is a winter activity and it could be cold so warm clothes and layers are highly recommended

Also, don't forget your camera, sunscreen, sunhat, sunglasses and raincoat!

The shark diving experience is an all day open ocean experience as such, sea sickness tablets are recommended

No Scuba Diving experience required. The Adventure Bay crew will provide you with training on the day! 


This tour is NOT available for children under the age of 12

All children under the age of 18 must be accompanied by a fare paying adult

A registration and risk release form must be filled out by each participant prior to the Giant Cuttlefish and Shark Cage Diving activities

Please note: A strict luggage limit of 1 bag per person (up to 15kilograms) applies