Swim with the Giant Cuttlefish - 3 day tour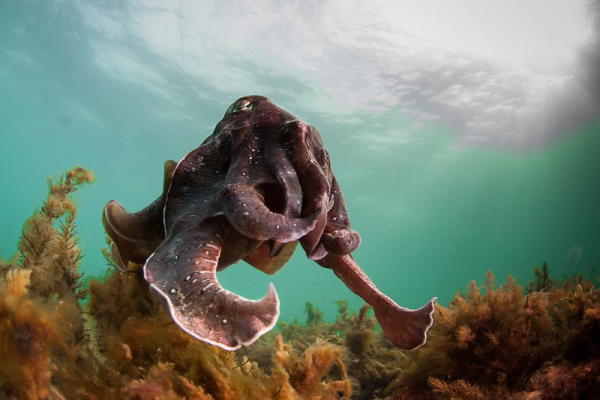 3 day Cuttlefish Package Tour
All inclusive VIP package
Return transport from Adelaide
Sightseeing and excursions en-route
2024 Tour Dates
Coming Soon!


from AUD $2200 per person
Limited places - be quick!
Tour Inclusions
Return transport
Experienced pureSA guide
Alligator Gorge, Flinders Ranges
National Parks entry fees
Fully guided Cuttlefish experience
Hire of wetsuit and snorkel gear
Australian Arid Lands Botanic Gardens
Overnight accommodation in Melrose
Overnight accommodation in Whyalla
Meals - 2 Breakfast, 3 Lunch, 2 Dinner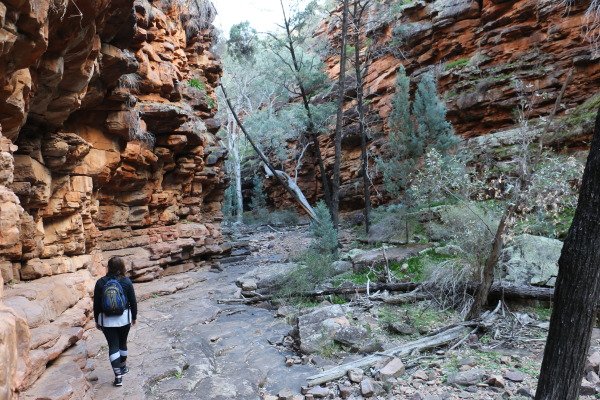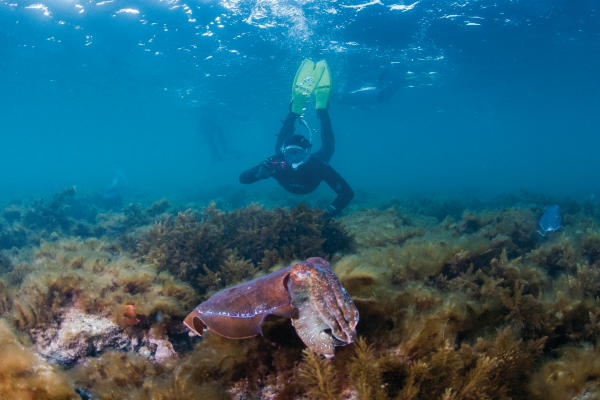 Itinerary Day 1

Departing from Adelaide, witness the change of scenery as you leave the city behind and travel through a landscape of fields and quaint country towns. Heading towards Lochiel the home of Lake Bumbunga, the Pink Lake, where you will make a quick stop for a photo opportunity.
Working up an appetite we will make our way further north to Stone Hut, a small historic town in the Southern Flinders Ranges. Steeped with history this quaint little town is where you will enjoy lunch from the famous Old Stone Hut Bakery.
After lunch we head onto Alligator Gorge, home to one of the most popular and scenic walking trails in Mount Remarkable National Park. Here you will have time to explore Alligator Gorge's beautiful trails, rugged cliffs and amazing natural landscapes.
Just thirty minutes down the road, you will reach your final destination for the day, Melrose. Spending the night, you can curl up in your accommodation or use some free time to explore the area. The night will be spent with a delicious home cooked meal and good company which will be sure to tide you over for the night in preparation for the cuttlefish swim.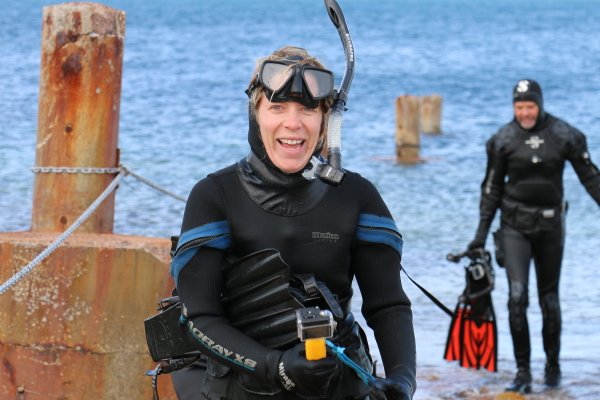 ---
Itinerary Day 2

After enjoying a freshly cooked breakfast it is off to the incredible Australian Arid Lands Botanic Gardens where a light lunch featuring local produce awaits. Be sure to take time and stroll around the Bush Food Garden where you will discover some of the medicinal and food plants that have been used by the Aboriginal people for thousands of years.
Then it's back on the bus to travel to the home of the Giant Cuttlefish, Whyalla. On arrival at Stony Point, the best spot near Whyalla to see the Giant Cuttlefish, you will get fitted out with wetsuits and snorkeling gear and receive a full experience and safety briefing prior to entering the water with your snorkeling guides.
Swimming just a few metres from shore, you'll start to encounter these unique and wonderful creatures in their natural environment. Observe their graceful gliding among the rocks and sea plants as you witness their changing shapes and colours. Back on shore, you'll change into warm clothes and enjoy a hot drink while reflecting on your amazing cuttlefish experience.
Travel Information
---
Departure | 8.00am | Central Adelaide
The main departure point is at The Joinery, 111 Franklin Street, Adelaide. Please arrive 15 minutes early to allow time for check in and loading of luggage. Pickup on request from selected Adelaide city hotels may also be available and will be confirmed by email following receipt of your booking.
Return | Approx 6.00pm 2 days later | Central Adelaide
On arrival back to Adelaide, you will return to the main departure point or your hotel.

---
Itinerary Day 3

After a delicious dinner and a good night's rest it'll be back onto the bus for another round of snorkelling, because we believe once just is not enough. Back onto Stony Point dive site you will have the opportunity to once again swim with the cuttlefish during the morning.
After your second incredible cuttlefish snorkeling experience enjoy a quick lunch and a hot drink at the dive site before beginning the journey back to Adelaide. On our way back we will detour via Clare Valley, one of South Australia's popular wine regions. Here you will be surrounded by vineyards and cellar doors set amongst the gum trees and enjoy a wine tasting and local produce platter while reflecting on your cuttlefish journey.

Important Tour Information
Wetsuit and all snorkel gear for the cuttlefish activity are provided

You will need to bring your own warm towel and dry clothes to change into after the cuttlefish swim

We recommend you wear good quality footwear for the trails at Alligator Gorge

This is a winter activity and it could be cold so warm clothes are highly recommended

Also, don't forget your camera, sunscreen, sunhat, sunglasses and raincoat!


Accommodation: two nights of accommodation will be spent in local caravan parks and/or motels

This tour is NOT available for children under the age of 12

All children under the age of 18 must be accompanied by a fare paying adult

A registration and risk release form must be filled out by each participant prior to the Giant Cuttlefish snorkel activity

Please note: A strict luggage limit of 1 bag per person (up to 15kilograms) applies