In the last decade Adelaide has really stepped up in all aspects of appeal and provides unique boutique experiences not found anywhere else. With world class beaches, wine, food and nature and wildlife experiences why wouldn't you want to visit this dynamic city? If I haven't already convinced you, here are a few reasons why Adelaide should be on your Aussie adventure bucket list.
SMALL CITY
Probably one of the biggest draw-cards for me is that Adelaide is a relatively small city. The central business district is only 2.6 km2, is easy to navigate and takes 20-30 minutes to get to most places by car. Although small it still has all the conveniences of being in a large city but with minimal traffic! The people are friendly and the city is very multicultural, while providing a quintessential Aussie experience.
WEATHER
As for weather: Adelaide is the driest capital city, in the driest state, on the direst inhabited continent in the world which means that the chances of your whole holiday being spoiled by rain is fairly minimal. We experience mild winters and hot dry summers. Perfect for being able to get outdoors without freezing or for soaking up hot days on the beach!
BEACHES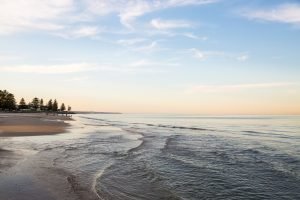 Which leads me to my next point, the beaches. With over 28 km of beach along the Adelaide metropolitan area alone, we are absolutely spoilt for choice. The white sandy beaches you know Australia for, yep Adelaide has them! The long stretch of beach means that even at the busiest times there will always be a spot for you and your towel! Live like a local and head to Brighton Beach for a relaxing day in the sun and perfect swimming conditions. If you're feeling active, Henley beach has a great walking and cycling path right along the ocean. Go to Glenelg for beach side shopping, cafes and bars. If you prefer to be under the water, head south to Port Noarlunga reef for a spot of snorkeling or SNUBA, with shallow waters and easy access it is perfect for exploring SA's marine life. Lastly pick any spot along the coast for a beautiful Australian sunset. Adelaide's west facing coastline  means that we get to soak up the last of the sun's rays while it sets over the ocean. Spectacular!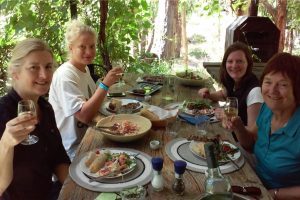 WINERIES
The fertile land of Adelaide's surrounds has attributed to the delicious produce that can be found in Adelaide. The most famous of course are the wineries. With the Barossa Valley, McLaren Vale, Clare Valley and Adelaide Hills wine regions only a stone's throw away from the city, it's easy to see why visitors and locals alike choose to spend time tasting the rich flavoured wines that are created here. If you only have a couple of hours spend it at Penfolds Magill Estate, one of the original wineries and located only 8km from the CBD. With a lunch menu designed to tantalise your taste-buds you will not forget a tasting and dining experience here anytime soon. For a more authentic Aussie experience I recommend a half day guided hike through Morialta Conservation Park to Sinclair's Gully Winery. The rustic charm of Sinclair's Gully will warm your heart while you enjoy a glass of local wine over a barbecue lunch made by using native ingredients and spices.
HIKING & WALKING
If you are more interested in hikes and walking trails than food and wine then Adelaide has something to offer you too. The most famous walk is the Waterfall Gully to Mount Lofty Summit trail. This hike will challenge you but the panoramic view from the top is well worth the effort. If it's wildlife you want to see on your walk then Morialta Conservation Park is where you want to be. This park is one of the best places in Adelaide to spot cute and fluffy koalas and has an abundance of native bird life. You will also be spoilt with rugged cliffs and seasonal waterfalls. For the ocean lover, the Hallet Cove Boardwalk is a must do. The boardwalk follows the coastline along cliffs and provides spectacular views of the ocean while really upping your daily step count!  If you're looking for something a little more relaxing, a stroll through the Adelaide Botanic Gardens will leave you feeling rejuvenated. Enjoy a picnic on the grass or take a free guided tour to learn more about the flora that adorns this garden.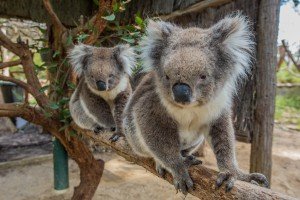 WILDLIFE
For a metropolitan area Adelaide still has a great diversity of nature and wildlife. If it's on your bucket list to spot Koalas and Kangaroos then head to one of the many Conservation Parks around the outskirts of the city. For a more interactive and close up experience you can't go past hand feeding the kangaroos or holding a koala at Cleland Wildlife Park. If you have already seen the iconic natives then a trip up to the Adelaide Dolphin Sanctuary at Port Adelaide might be appealing. Kayak through the 10 000 year old mangroves all the while looking out for a few of the 40 resident dolphins that live in the Port River system. Adelaide is also an amazing place for a stopover on your way to Cage Dive with Sharks in Port Lincoln or Snorkel with Cuttlefish in Whyalla!
HISTORY
Although Adelaide is a relatively new city, the area has a lot to offer history buffs. There are many self-guided historical walking tours you can take through the city streets or head indoors to the South Australian Museum, Art Gallery or Maritime Museum (Port Adelaide). The Adelaide Gaol also offers historical and ghost tours for something a bit left of centre. If you want a taste of the German influence in greater Adelaide head up to Hahndorf and explore the quaint village and tasty foods. Adelaide also has a strong Indigenous history and there is a lot to learn about the traditional owners of the land on an Aboriginal Cultural tour.
RESTAURANTS & CAFES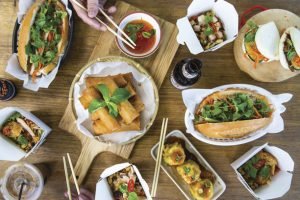 If food is your life motivation then the high quality dining options of Adelaide will really satisfy. There are so many great restaurants, cafes, food tours and food trucks throughout the city that it would be difficult to find a bad meal. If you're looking for brunch by the beach you can't beat Molobo at Henley or Pure at Glenelg. For an Asian fusion experience the city is place to be. Some of the top restaurants include Gondola Gondola, Fish Head and Golden Boy. For amazing pizza head to MELT and if you can fit in dessert after all that 50sixone is a must! To experience an Aussie BBQ in the city centre you can't go past BBQ buoys. You'll float on the River Torrens while having a glass of wine or cold beer and cook your lunch on the on board BBQ. My mouth is watering!
To be honest I could go on and on about how much this wonderful city has to offer but you will just have to come and find out for yourself!
Written by Adelaide resident and enthusiast
Shavojn Read